The ZeroHome System is a Multi Award winning Professional Sustainable Build Management Process that has been recognised internationally as a best practice model for cost effective Zero Carbon builds. In 2015 we received our first International Green Apple Award for work completed on our Fairbuild project. We have just received our second Green Apple Award (Ireland) and second International award for continued work on this and other projects.
Through these achievements ZeroHome System are in line to received a coveted Green World Ambassador Award 2017 . These awards highlight the international appreciation of a system that has potential to revolutionise the construction industry. We see it as validation of a system that could be of huge benefit to the construction sector and especially bespoke and  social housing by providing exceptionally well built ultra-low carbon rated homes which will reduce living costs and impact on fuel poverty. We are grateful for this recognition and hope to see the ZeroHome System adopted into the education system as real and viable quality Professional Sustainable Build Management System.
'GREEN APPLE JUDGES COMMENT'
---
DRAFT NEWS RELEASE FROM THE GREEN ORGANISATION
LOCAL COMPANY WINS TOP HONOURS IN BUILT ENVIRONMENT AWARDS
Barry Gallagher Architects, based in Omagh, has won an Irish Green Apple Award for the Built Environment and Architectural Heritage in the national campaign to find Ireland's best buildings. They competed against more than 90 other nominations in the Awards, and they were presented with their trophy and certificate at a glittering presentation ceremony in Stormont on Friday, 13th May.
They won a NATIONAL SILVER Award for their Zero Carbon – Zerohome System, and the judges commented "Flying in the face of opinion that Ireland is lagging behind the rest of Europe in relation to low carbon home developments; this project has seen the creation of two low-cost low-impact homes that completely demystify the genre.
These homes were built using predominantly locally sourced materials and labour as well as traditional building methods yet they satisfy and exceed the need for new homes to be affordable to both purchase and operate. Modular design and good use of the latest technology has created a pair of dwellings that not only have a greatly reduced carbon footprint in their construction, but in day-to-day use will give the occupier efficient comfort throughout the year.
As well as this there is a potential income from returning power to the grid. Plans are taking shape to adjust regulations to allow these types of development to become the norm for future home-building projects." The Green Apple Awards have been running since 1994, although this is the inaugural event for Ireland. The awards are a world-reknowned campaign to recognise and reward the successes and achievements businesses councils and communities, large and small, improving the built environment.
---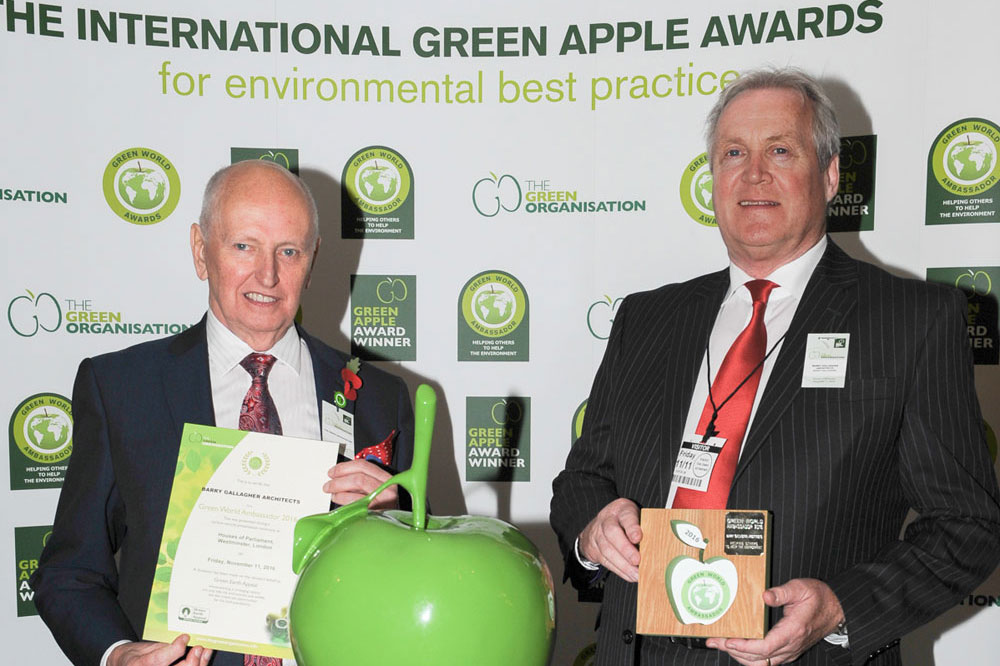 Barry Gallagher receiving his Green World Ambassador Award at Houses of Parliament – Westminster London from the founder and managing director the Green Organisation – Roger Wolens.
Barry Gallagher receiving his Second International Green Apple Award in London – Built Environment and Architectural Heritage – For ZeroHome System.

Barry Gallagher with other recipients of the first Ireland Green Apple Awards 2016 in the Northern Ireland Assembly Parliament building –  itself a recipient of a national award. The Green Apple Awards began in 1994 and have since become established as the Worlds major recognition of environmental endeavour among companies, councils, communities and countries.

Barry Gallagher – ZeroHome System creator and consultant receiving his first International Green Apple Award 2015 in London.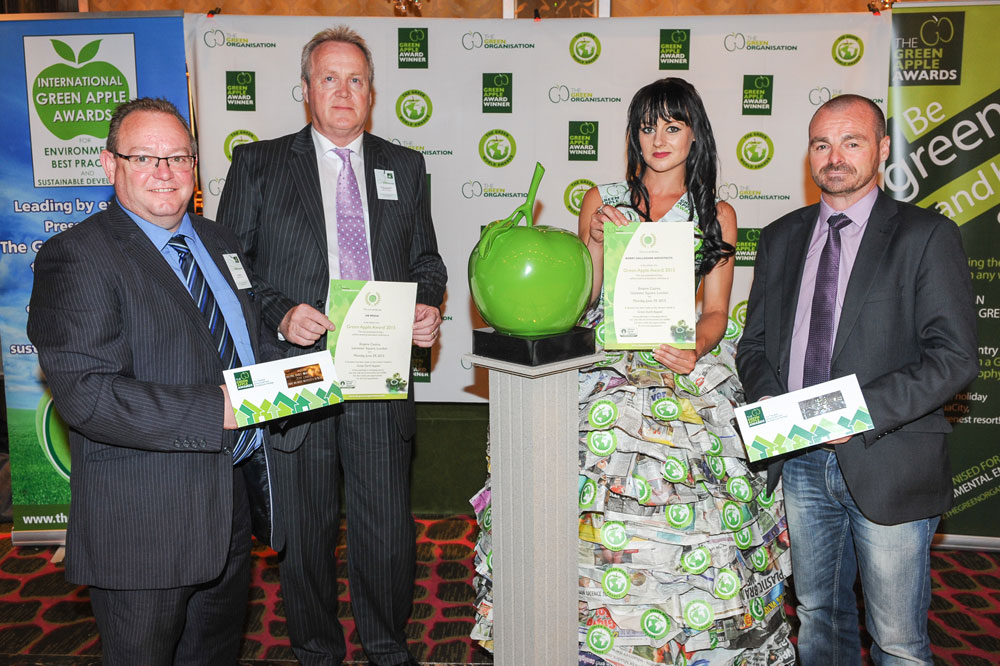 Barry Gallagher Chartered Architect and creator of the ZeroHome System has won a Green Apple Environmental Award in the international campaign to find the greenest companies councils and communities. He competed against more than 200 other nominations in the Green Apple Awards for the Built Environment & Architectural Heritage, and was presented with his trophy and certificate for the "Zerohome System" project at a glittering presentation ceremony in Empire Casino,Leicester Square, London, on June 29th.