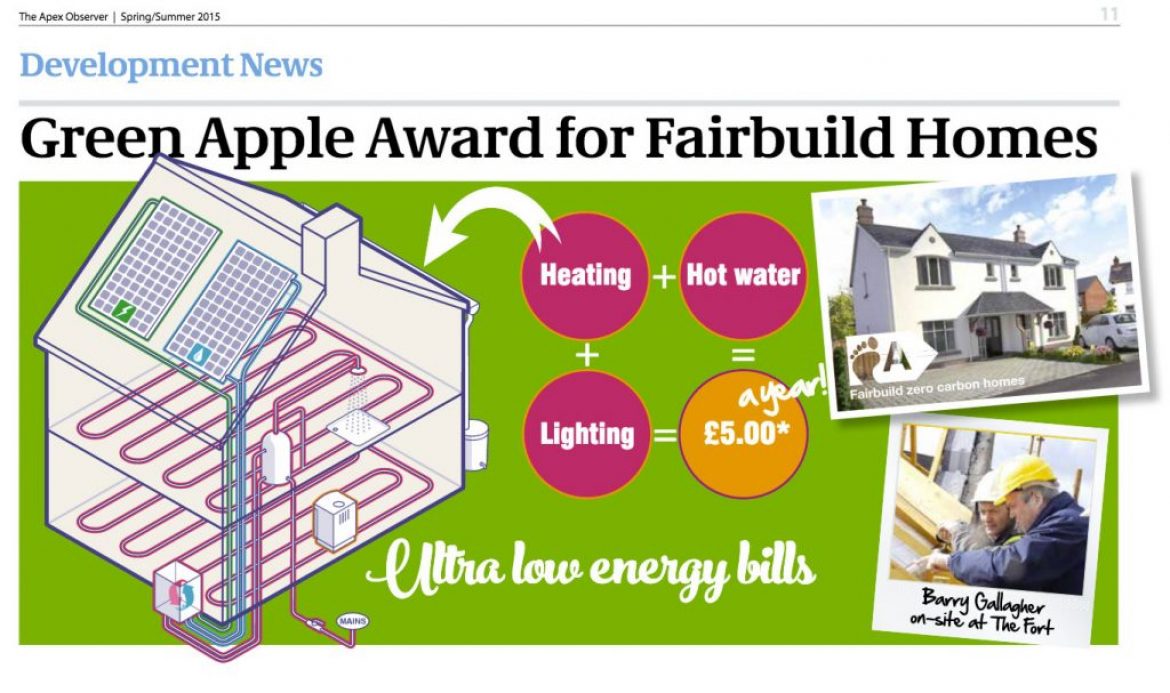 Fairbuild Win Prestigious UK Green Apple Award For Maghera Project
Source: Apex Observer Magazine – Spring/Summer 2015.
Fairbuild Homes is a 'not for profit' subsidiary company of Apex and builds quality affordable homes for those people seeking to buy. Any income generated by Fairbuild is invested back into our social housing programme. Fairbuild has completed two zero carbon homes at The Fort, Maghera. These homes have been built using traditional materials and methods of construction with projected running costs of approx £5.00 per year for heat, power and light. This is in part made possible through government ROC payments for electricity generated. It is a huge achievement and we are determined to take some of the lessons learned and implement them in our social housing delivery. The Maghera development has just been awarded a Green Apple Award.
This prestigious award is given to companies and individuals who promote environmental best practice around the world. Barry Gallagher, Energy Consultant and architect for The Fort will travel to London to collect the award. Barry has been retained by Fairbuild to advise on its next project at Saintfield Road, Lisburn. This research and development strand of our business
reflects our commitment to tackling fuel poverty and our responsibility towards protecting the environment.